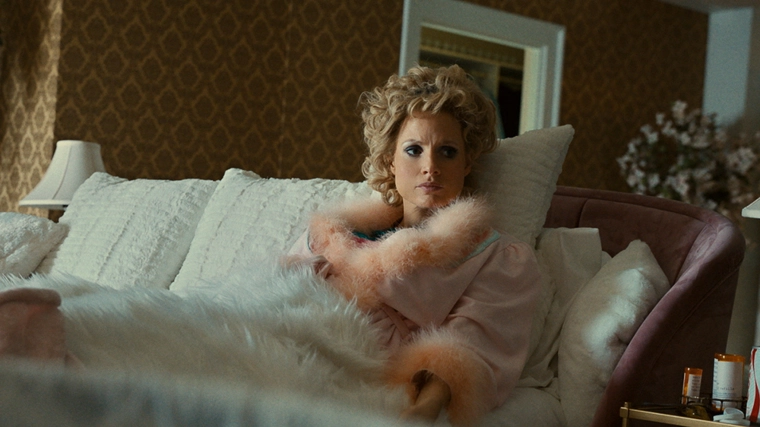 The Eyes of Tammy Faye is exactly what you'd expect from an unimaginative biopic – colourful, energetic and shallow – although Jessica Chastain puts in a dazzling performance, writes Caryn James.
There aren't many screen heroines with the garishly bad taste of Tammy Faye Bakker, brought to flamboyant life by Jessica Chastain in The Eyes of Tammy Faye. But the real Tammy was also a one-of-a-kind spectacle. In the 1970s and '80s, comedians mocked her tarantula-like fake eyelashes and crying fits. But she was also embraced by her target audience, viewers of the popular daily talk show she starred in with her husband, Jim Bakker, one of the most successful televangelists of the time. He preached to the converted and asked them for money, and she belted out faith-based songs in a show broadcast on their own flourishing satellite television network. They even built a Christian theme park, Heritage USA. The empire crumbled after Jim admitted, in 1987, to paying hush money to a woman with whom he'd had a one-night stand, and two years later was convicted of fraud over their company's fundraising. On the day he was pronounced guilty, Tammy Faye, ever the show woman, sang on the courthouse steps.
In hindsight, she is a fascinating cultural figure for deeper reasons. Tammy Faye lived at the crossroads of fame, money, politics and religion at a crucial turning point in US history. The Bakkers became household names at the moment when evangelical Christians were gaining political power, getting behind Ronald Reagan. The gap between those who loved and those who scorned Tammy Faye foreshadowed the deep liberal-conservative divide in US politics today. Who was this woman, and what did she know about the scandals and political manoeuvres swirling around her?
There must have been many sophisticated ways to delve into all that on screen, but Chastain – who generated the project and is a producer and star – and her colleagues chose to make something simpler. The Eyes of Tammy Faye is the definition of Hollywood Oscar bait, with a dynamic, physically shape-shifting performance at its centre, and a screenplay that suffers from all the flaws of a standard biopic. Following Tammy from girlhood to her post-scandal life after divorcing Jim in 1992, the story zooms from event to event, wig to wig, big red curls to big blonde curls, without letting us see why things happened. The director, Michael Showalter (The Big Sick), always keeps things moving and lively. The costumes – bright turquoise dresses and oversized earrings – capture Tammy's over-the-top style in the '80s. But The Eyes of Tammy Faye is exactly what you'd expect from an unimaginative biopic: colourful, energetic and shallow.
The feature is based on Fenton Bailey and Randy Barbato's 2000 documentary, also called The Eyes of Tammy Faye, which Bakker herself contributed to. Both attempt to redeem her from mockery. And both tell the story from her point of view, although Abe Sylvia's screenplay largely wastes that advantage, revealing what Tammy saw but rarely what she was thinking about it.
Click here to read more.
Source: BBC